Five month ago, we were initiating the V.I.G.I.E project. Since then some 20 pictures and 3 videos have been received.
As a reminder, the V.I.G.I.E project : « Visual Integrated Geolocalisation for Identification Experiment » (Expérimentation d'identification et de géolocalisation visuelle automatique) http://vigie.ufo-science.com can only move forward with the involvement of everyone.
If you want to be part of it, nothing is simpler.
I own a diffraction grating : : put the grating in front of the lens and take – best case – a picture of a streetlight sodium bulb (switched on, by night, giving orange light). Distance to streetlight should be over 30 meters. Pay attention to correctly center the bulb in the picture.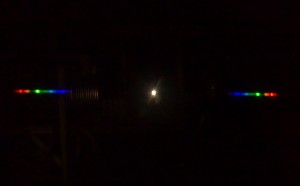 I do not own a diffraction grating : you can get one – either as a slide, or a self-adhesive for mobile phone, by visiting our website. You can anyhow take a picture under same conditions as described above while waiting for your diffraction grating.
IMPORTANT
If you have a mobile phone equipped with an imaging device with geolocation capabilities intégré (GPS and/or compass). Think to activate it before shooting, to simultaneously record geolocation data.

Once the shooting is done, send pictures to the email address mentioned here above, and indicate the DIFFRACTON GRATING TYPE used (SLIDE or Self-Adhesive).