After issuing our article from July 24th in 2011, we had planned to perform some field tests with our "Lyre-type" detection stations, UFOCATCH® and UFOCATCH® V2 in order to validate some involved concepts. This is with some delay on our planning that this real life conditions test has been done, as a follow-up of our precedent test done in March 2009. For the occasion, the owner of a private flying club granted us access to his airfield for our different experiments.
For recall, UFOCATCH® V2 is the new generation of standalone detection stations that can eventually be used on-site and work 24/24.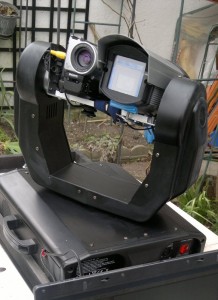 The methods of calibration, spectrum acquisition and analysis are crucial steps to take into account during their design phase. As these concepts have already been validated during our first real life conditions tests, we focused this time our attention on testing the peripheral equipment ensuring the correct working of the station (power supply, wiring, software, transmission and reception of signals…).
In order to be able to deploy this type of stations on distant locations with no connection to the electrical network, we designed a portable video control system. It can be easily set up in a car trunk and allows to simultaneously controlling – either automatically or manually – two detection stations placed on the car roof.
This video control system is equipped with two standalone power supplies independent from the car, allowing to provide energy to equipment originally designed for connection to the standard.(110-230V) mains supply. it is also possible to use the video control system from inside the car allowing to control several detection stations while the car is traveling.
Each computer features specific software including a user interface for a better monitoring of parameters variations.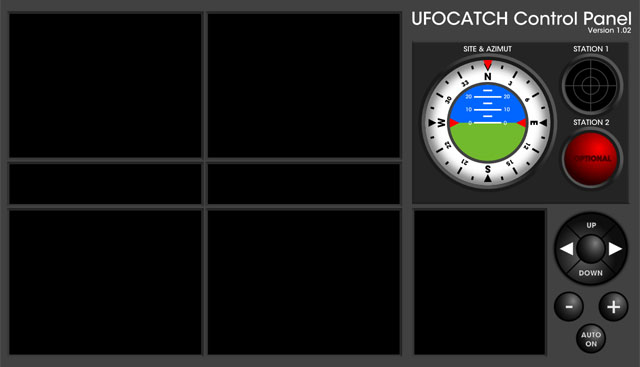 [jwplayer mediaid="4491″]User interface controls during tests
[jwplayer mediaid="4492″]
Moving of Ufocatch®
In addition to data displayed as text, the interface allows to monitor simultaneously videos from several camcorders some of them being equipped with a diffraction grating. Data collected at the output of two fisheyes allows triangulation of the observed light phenomenon and tracking its position both in direction and azimuth on a compass. The user can also display the spectral profile, and track its real-time evolution.
The UFOCATCH® V2 is versatile. The prototype designed 3 years ago and introduced to the public in Strasbourg in 2010 couldn't allow using several types of camcorders. The new generation does now offer this feature allowing mounting on the lyre several models of spectroscopic or consumer camcorders, or even telescopes.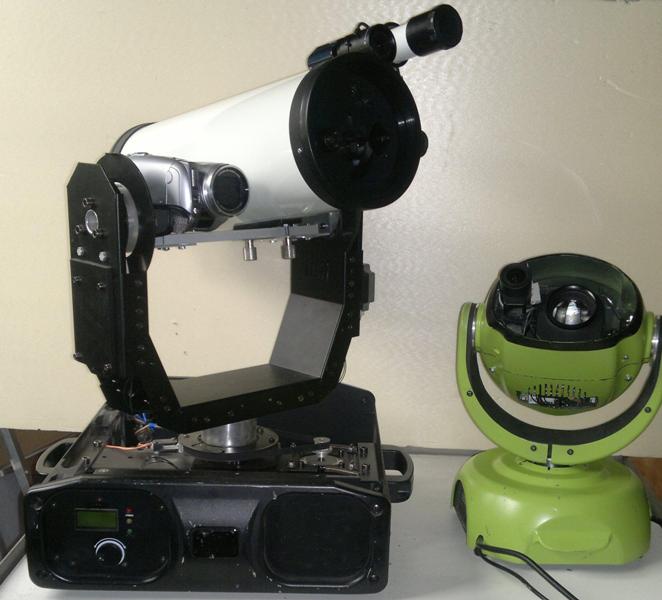 Contrary to our test done in 2009 where we used a light source tied to helium balloons, we considered this time using a quadricopter able to lift up a (CFL) OSRAM Dulux Pocket (aka Dulux Mini).
However strong wind gusts didn't allow using it. The risk was too high to lose control of the radio controlled model. We then decided using a kite much more able to resist the weather conditions that day.
After that day we've been able to validate the correct behavior of our new systems and think about some concepts improvements. Setting up all the equipment is around 15 to 30 min. and easy. The fisheye sensitivity allows the detection of the slightest movement in the sky. The tracking speed of the l'UFOCATCH® V2 is highly efficient, and the station perfectly responds to orders transmitted by the manual control interface. In the future, our video control system will be equipped with more powerful computers able to take into account more data and giving the ability to activate a preprogrammed function – allowing data exchange with other portable video control systems and thus tracking a light phenomenon over long distances.
The most interesting aspect is the autonomy when running all functions of the system simultaneously. Several hours of test have been done using a single power supply without exhausting it. This opens new opportunities when considering the installation of new control and measure equipment or using more powerful robots.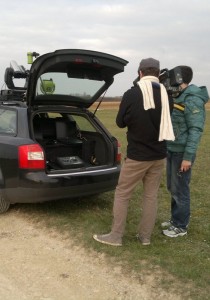 For the occasion, two students from the AFPA (TN: Professional Training for Learning Adults Association), came to make the documentary video in the frame of their courses. The video will be available within few weeks.