May 28th, 2007
TV Report on the Trans-en-Provence case (direct witness + ground scar + plants analysis) including interviews with the witness Renato Nicolaï the biology scientist from the INRA Michel Bounias, deceased today. Dr Bounias did the analysis on alfalfa samples collected on site that revealed high biochemical changes in plants fully correlated to the distance to the landing spot. These modifications lasted for months before plants eventually recovered their natural biological state.
[media id=31 width=246 height=240]
Michel Bounias works have been published in the GEPAN Technical Notes n° 16 issued the 1st of March 1983, under the title "Ground scar analysis (Analyse d'une trace)".
As a specialist of plants trauma after radio nuclear exposition, Bounias suggested that a high electromagnetic fields could explain this phenomenon. At that time, Michel Bounias and JP Petit canvassed the GEPAN in order to make some experiences based on low frequency pulsed microwaves allowing to know whether this phenomenon could be reproduced or not. Answer of the GEPAN : "That's impossible for you are not from the GEPAN"…
If this hypothesis could have been tested and corroborated it would have given a strong signal towards the physical vehicular hypothesis1 since microwaves do not exist in the wild.
Here is the typical profile of analysis results (abstract from GEPAN Note n°16) :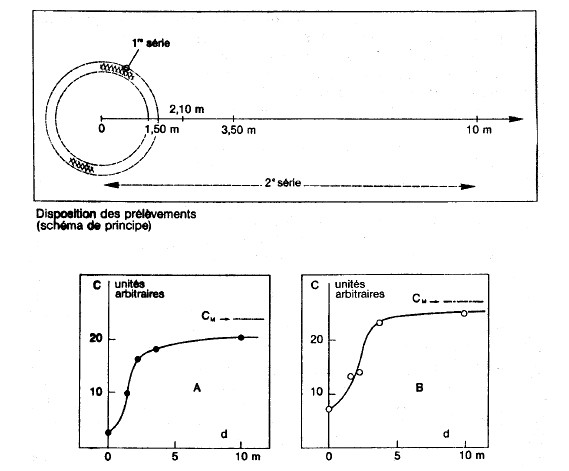 Analysis performed by Michel Bounias in 1981. Top picture, alfalfa samplings.
Bottom picture; the importance of the variation of pigment presence in plants.
One thing must be noticed : sampling was made by Gendarmes in only one direction along the restanque. Parameters values in alfalfa situated in other directions will remain unknown forever. See figure :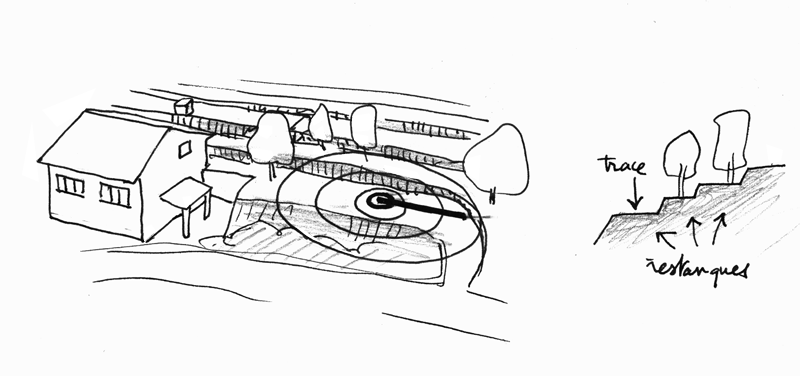 The Trans-en-Provence landing spot.
Bold circles : ground scar. Dark line : alfalfa sampling direction.
All this story is told in JP Petit's book "Enquête sur les OVNI" in the printed version, page 120 and following pages, and in the PDF version page 75 and following.
---
1Pulsed microwaves (high frequency electromagnetic radiation) is one of the means considered to ionize the atmosphere around an MHD aerodyne.